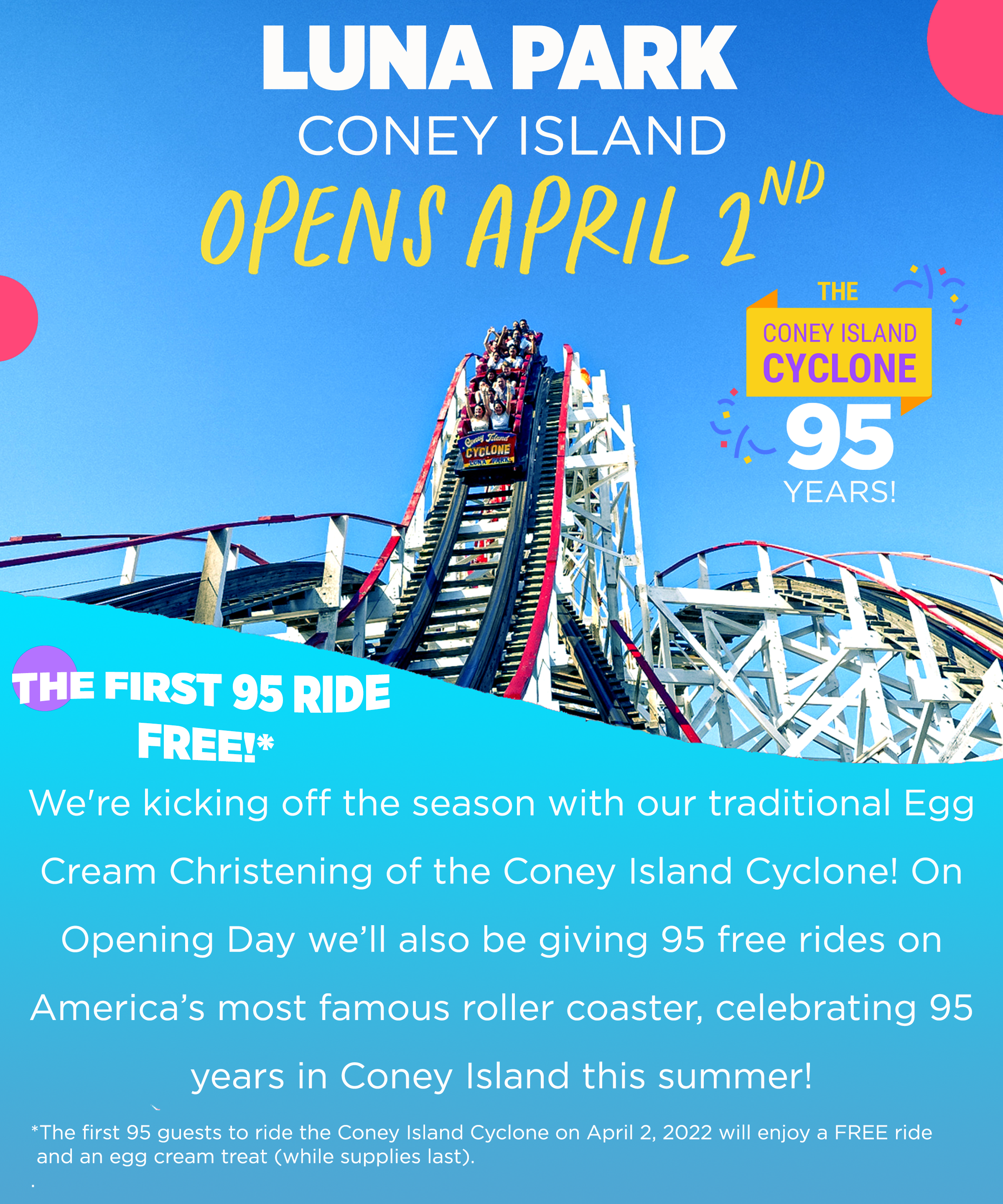 We're Egg-cited to welcome guests back for the 2022 season on Saturday, April 2nd at 12:00PM EST! Celebrations begin at 11AM with the Egg Cream Christening of the Coney Island Cyclone, which turns 95 this year, followed by a fun-filled day at the park.  In honor of the iconic coaster's 95th birthday, the first 95 guests to ride the Coney Island Cyclone will enjoy a free ride and an egg cream treat (while supplies last)!
We take pride in being New York City's largest amusement destination and maintain our commitment to enhancing Coney Island year after year. This season we will also unveil our newly added sites as part of our expansion project, adding more ways to have fun in New York City.  By way of our expansion, we're bringing more fun and innovation to Coney Island with new attractions and environmentally friendly pedestrian plazas!  Additional details on the forthcoming attractions and pedestrian plazas will be announced later this season.
About Luna Park in Coney Island:
Luna Park in Coney Island is the largest amusement park in New York City's and its most famous playground with a heritage that stretches back more than 150 years. Luna Park in Coney Island provides New Yorkers and tourists from around the world an unforgettable seaside experience with family-friendly attractions and entertainment, shopping and dining on the scenic landmarked boardwalk, thrill rides and special events. Luna Park in Coney Island lights up the famous Coney Island skyline with its timeless charm, historic landmarks, and exciting novelties. Adjacent to the nearly three miles of sandy beaches, two and a half miles of boardwalk and other top attractions, Luna Park in Coney Island, which employs more than 1200 people, offers over 40 games, rides and roller coasters and is a fun-filled world-class destination for all ages.