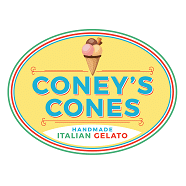 I Scream. You Scream. We all Scream for Ice Cream!
Although, at Coney's Cones, we all scream for Gelato! 😉
The thrill of chill is available beginning Memorial Day Weekend at Coney's Cones.
Good news – we're back! Just in time for the warm weather and those sizzling summer days, Coney's Cones is here to provide sweet cool treats for take-out. Our artisanal and handmade gelato will pair perfectly with your socially distanced stroll on the Boardwalk or make a delicious treat at home. Beginning May 22nd, Coney's Cones will welcome guests with enhanced safety protocols to keep us all safe while serving the Best Gelato in the Borough!
Coney's Cones is continuously evolving our shops procedures to adhere to social distancing and national and local health agency guidelines through all guest and team member encounters and will implement additional procedures as required.
At Coney's Cones Safety is cool 😎, here is what you can expect at our store:
– Limited capacity. In order to safely serve you we will limit the number of customers in our store at one time. In case of a queue outside, please make sure to adhere to proper physical distancing on the Boardwalk while you wait to enter Coney's Cones.
– Hand sanitizer will be available for all guests;
– All high touch surfaces will be cleaned and sanitized with increased frequency;
– Our kitchen and shop will undergo comprehensive sanitization and deep cleaning each day;
– Social distancing decals have been placed on the floor to help guests easily navigate order and pickup while adhering to proper social distancing;
– New protective panels have been installed in our order area and service counters;
– All our team members are required to wear masks and gloves. Guests must wear face coverings as mandated by New York City.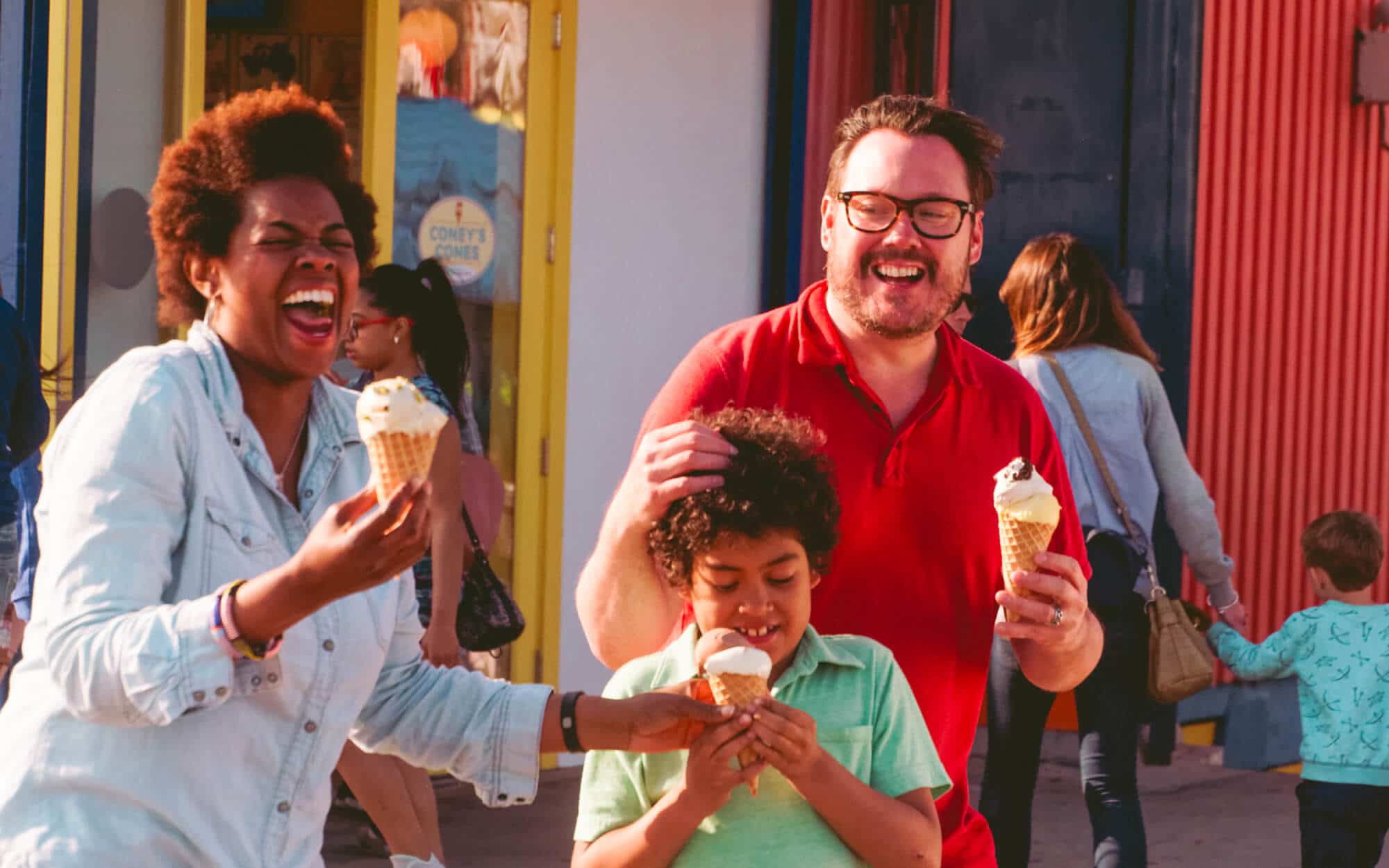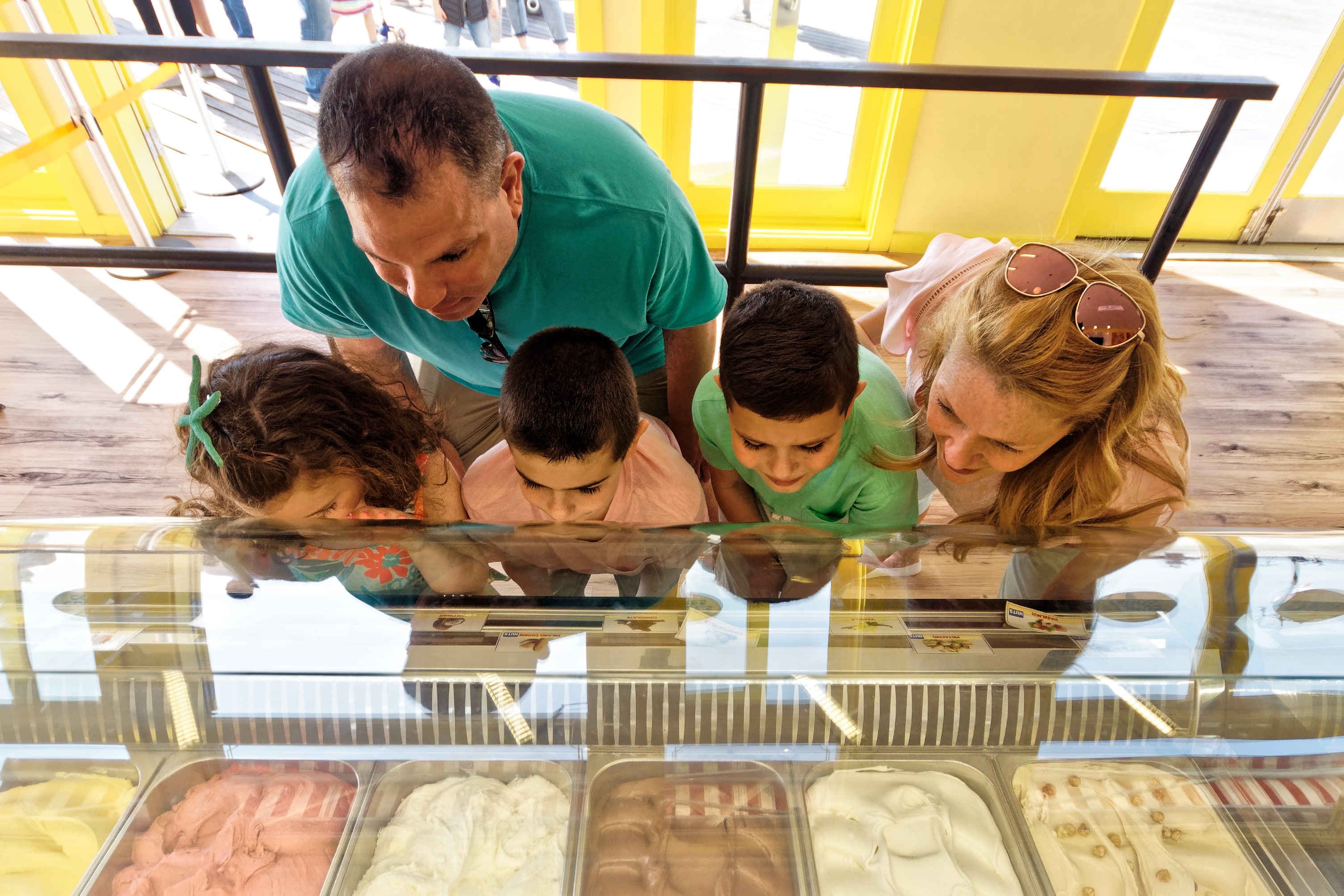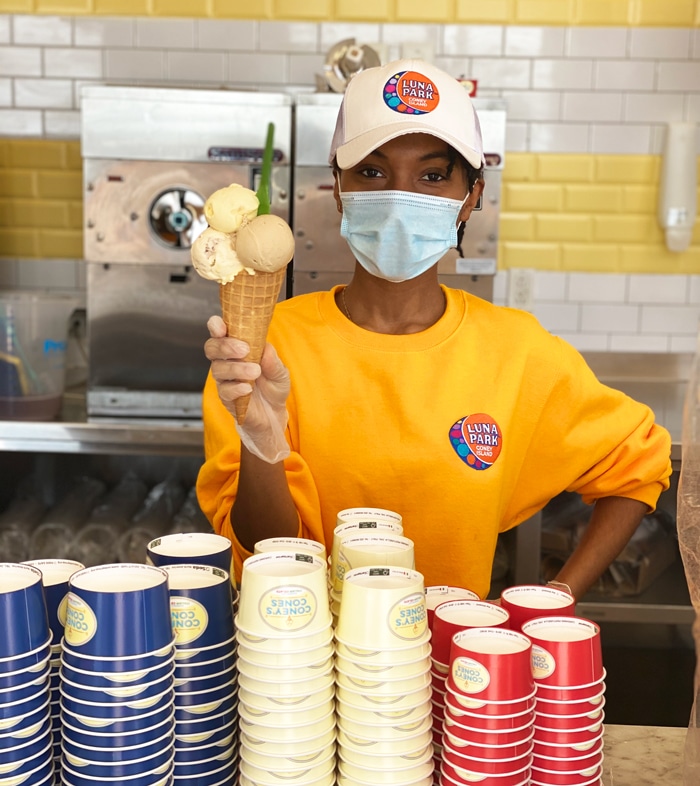 Here's how we make sure our dedicated team members are well and can safely prepare and distribute your orders:
– Daily wellness and temperature checks are now required to help ensure team members are healthy and feel good when they come to work;
– Personal protective equipment, gloves and masks, will be supplied to our team members;
– Team members will be updated and retrained on Best practices for Food facilities according to CDC and NYC health agency directives and guidelines as necessary;
– Signage will be visible throughout the shop reminding team members of the proper way to wash hands, wear, handle and dispose of masks and gloves, and sneeze and to avoid touching their faces.
A History as Rich as Gelato
Did you know? Coney Island is the original hometown of the Frozen Custard, invented in 1919 when two Coney Island ice cream vendors, Archie and Elton Kohr, found that adding egg yolks to ice cream helped create a smoother texture and kept the ice cream cold longer. According to some reports, he sold 18,460 cones of the frozen custard novelty in one weekend. 😳
Ice Cream, Gelato, Frozen Custard? What's the difference? 🤔
Apart from the egg in the custard, well, nothing, technically. While air is not typically thought of as an ingredient, it is one of the characteristics that sets the frozen treats apart. The air, though not deliberately forced into the cream, is inherently incorporated into the creamy treats by mixing and affects both denseness and consistency. Typically, a traditional soft serve will be comprised of about 50% air, while gelato and frozen custard enjoy higher densities. On average, gelato and frozen custards are comprised of 7.5-15% air. Other differences in the three categories include the fat content in the cream. 👩‍🔬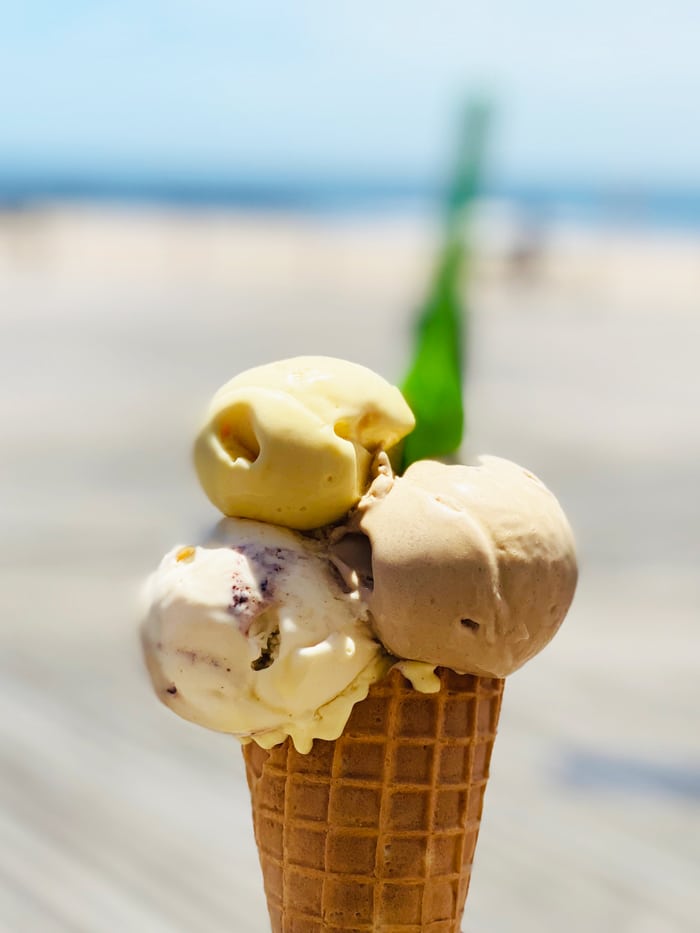 To showcase our love and appreciation of Coney Island and to our frontline workers during our opening we will feature an exclusive Coney Island inspired custard flavored gelato*, "Coney Island Custard". In addition, COVID-19 frontline workers will receive 15% on their entire purchase by showing their employee ID.
Other flavors available this Memorial Day weekend are: Vanilla, Chocolate, Custard, Mint Chocolate, Amarena Yogurt, Cappuccino, Rum Raisin, Milano Cookie, Coconut Covered Chocolate. As well as, Mango, Strawberry, and Raspberry sorbet.
Need to stock up? Larger 1lb and 2lbs containers are available to fill with your favorite Coney's Cone flavors to enjoy a taste of the Coney Island Boardwalk at home.
Coney's Cones Hours:
Monday to Sunday from 12pm to 8pm
Taste the Best Gelato in Brooklyn at Coney's Cones!