Coney Island Cyclone
Extreme Thrill
Featured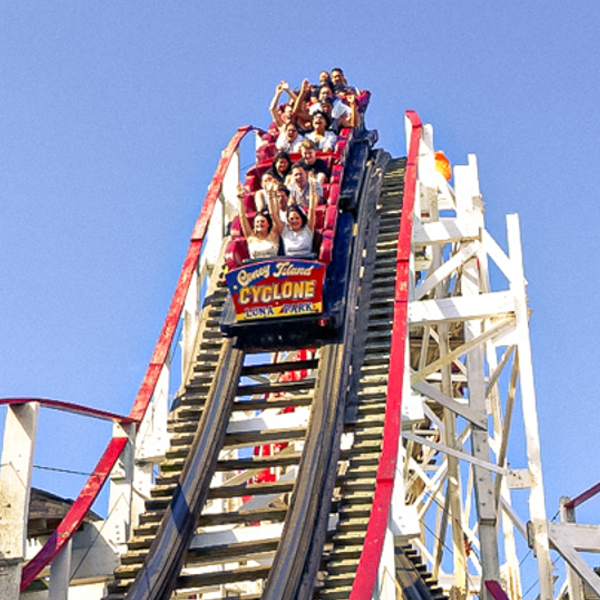 Since its debut on June 26, 1927, the Coney Island Cyclone has been a core fixture of the amusement district and is one of Luna Park in Coney Island's most cherished operating landmarks.** Located at the intersection of Surf Avenue and West 10th Street, the Cyclone reaches a maximum speed of 60 miles per hour, carries 24 passengers, and boasts a total track length of 2,640 feet. As the second-steepest wooden roller coaster in the world, the Cyclone features an adrenaline-charged plunge measuring 85 feet at an uncompromising descent angle of almost 60 degrees. Exhilarating drops, curves, 27 elevation variations and a sinuous layout have made this iconic wooden coaster a timeless classic and after more than 90 years of operation the Cyclone is still delivering thrills. Highlighted in major films, music videos, and works of art, the Cyclone is a cultural phenomenon and one of Brooklyn's most iconic sites to visit.
The Mother of roller coaster enthusiast culture and the "Big Momma" of Coney Island the Cyclone tops everyone's list of things to do in New York City. Find out what the hype is about and ride a piece of history at Luna Park in Coney Island.
**The Cyclone is both a New York City Landmark (1988) and listed in the National Register of Historic Places (1991).
---
Ride Info
| | |
| --- | --- |
| Credits | 10 |
| MINIMUM HEIGHT TO RIDE IF ALONE | 54" |
| | |