There's nothing better on a hot summer day than delicious handcrafted gelato!
Located on the Historic Coney Island Boardwalk, near West 10th street, Coney's Cones is Brooklyn's finest location for traditional handcrafted gelato. Experience the flavors and textures of Italy in Brooklyn and indulge in the 12 alternating flavors of artisanal gelato, handcrafted using traditional techniques by world-renowned experts.
Vanilla, Chocolate, Coney Island Custard*, Mint Chocolate, Yogurt Amarena, Cappuccino, Rum Raisin, Milano Cookie, Coconut Covered Chocolate, Mango, Strawberry, Raspberry sorbet… These are only sampling of the available flavors, updated every week by our "Maestro Gelataio." You can enjoy the Best Gelato in the Borough in cones and cups for summer strolls on the Boardwalk, or in take away containers (larger 1lb and 2lbs) for chilling out at home.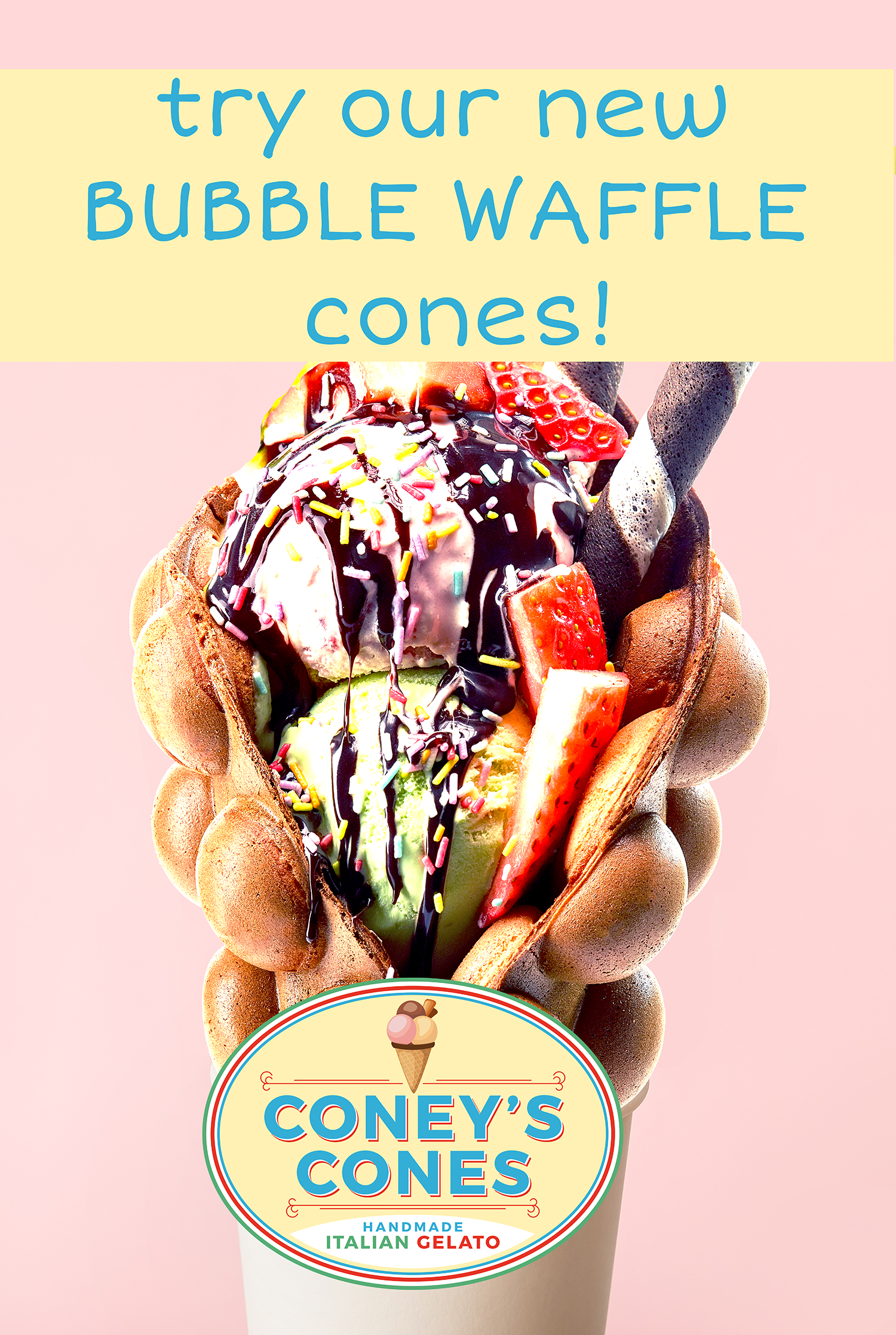 Coney's Cones is continuously evolving our shops procedures to adhere to social distancing and national and local health agency guidelines through all guest and team member encounters and will implement additional procedures as required.
We care about our guests:
– Please make sure to adhere to proper physical distancing on the Boardwalk while you wait to enter Coney's Cones;
– Hand sanitizer will be available for all guests;
– All high touch surfaces will be cleaned and sanitized with increased frequency;
– Our kitchen and shop will undergo comprehensive sanitization and deep cleaning each day;
– Social distancing decals have been placed on the floor to help guests easily navigate order and pickup while adhering to proper social distancing;
– New protective panels have been installed in our order area and service counters;
– All our team members are required to wear masks and gloves. Guests must wear face coverings as mandated by New York City.
We care about our team members:
– Personal protective equipment, gloves and masks, are supplied to our team members;
– Team members are updated and retrained on best practices for food facilities according to CDC and NYC health agency directives and guidelines as necessary;
– Signage will be visible throughout the shop reminding team members of the proper way to wash hands, wear, handle and dispose of masks and gloves, and sneeze and to avoid touching their faces.