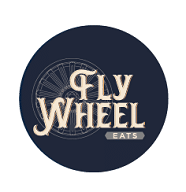 This new steampunk style eatery serves up all your scrumptious amusement park fare.
Try our signature whac-a-burger with a thick frosty milkshake. There is something for every palate here, from traditional Nathan's hot dogs to french fries and pizza. Flywheel Eats is located on the corner of Surf Avenue across from the iconic Coney Island Cyclone. Enjoy your delicious favorites while sitting in our outdoor patio enjoying the views of Luna Park and beautiful Coney Island. Walk- up service is available every day the park is open. There is no ticket necessary to enjoy this foodie lover's paradise, just bring your appetite!
Visit the Flywheel Eats at Luna Park in Coney Island today!
Flywheel: Burger and Shake Combo
Includes a handcrafted burger, and a Coney's Cones gelato milkshake.
Flywheel: Pizza Combo
Includes two traditional New York-style pizza slices, and a Coca-Cola fountain beverage.
Flywheel: Nathan's Hot Dog Combo
Includes a Nathan's hot dog, a side of fries, and a Coca-Cola fountain beverage.